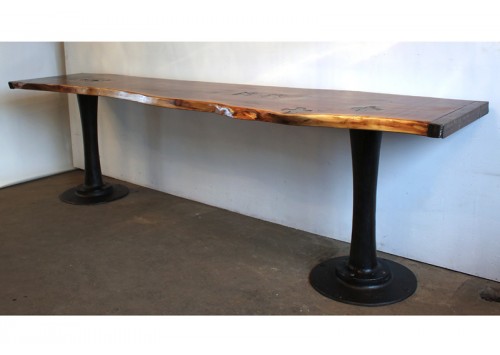 LIVE EDGE PEDESTAL TABLE - BAR HEIGHT
Our live edge tables are custom created from black walnut, oak, ash and other hardwoods. Locally harvested and kiln dried, each slab conveys unique growth patterns through grain variation and natural splitting. The frankenstein name comes from our custom made steel joinery - the "X" - fabricated to boldly stitch and celebrate irregularities. Available in sizes from 7' - 14' long, and with a plethora of table bases, this design can be made into a desk, credenza, dining table, bar island top, conference table, or any other imaginable surface. Cleveland Art's ability to blend reclaimed materials make for designs that are unrivaled in our mostly factory-made world.
Call for a quote as each table design varies in price. Starting at $8,000
Product Code:
2523
$0.00

Reviews
Write a review
Your Name:
Your Review:
Note: HTML is not translated.
Rating:
Bad
Good
Enter the code in the box below: